Gymnastics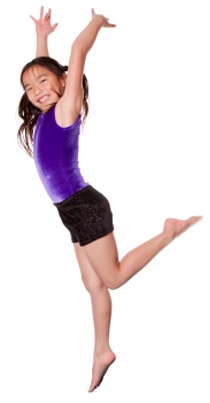 SPRING 2023
---
Tiny Tot Twisters
This is a structured class for boys and girls between ages 3-5. No exerience necessary. Participants will rotate between bars, beam, floor and trampoline, learning basic gymnastics skills including balance, jumping, rolling and swinging. Participants will work on strength, disciplins and listening skills, all while having fun!
Class Times:
Monday 4-4:45pm (Ages 3-5)
Tuesday 9-10am (Homeschool ages 3-5)
Wednesday 4-4:45pm (Ages 3-5)
---
Beginner I Twisters
This class will teach proper basics of gymnastics. Participants will practice vault, bars, beams, floor, strength and flexibility and will learn froward and backward rolls, cartwheels, handstands, pull overs, casts and back hip circle to proceed to the next level in a safe manner.
Class Times:
Tuesday 10-11am (Homeschool ages 6+)
Tuesday 3:30-4:30pm, 4:45- 5:45pm (ages 6+)
*NEW* Friday 4-5pm (ages 6+)
---
Intermeditate Twisters
This class is for those who have completed Beginner Twisters at the Bell Family YMCA. This class will improve skills from Beginner Twisters in a way that they become natural and need no correction. (This class has been merged with Beginner II.)
Class Times:
Thursday 3:30- 4:30pm, 4:45-5:45pm (Ages 6+)
---
Boys
This class is for boys ages 5 years and up. It is a beginner class that will give boys the foundation they need to continue to grow their strength, flexibility and skill set.
Class Times:
---
Mommy & Me
This is a new and great opportunity for parent/caregivers to help their child explore body awareness and develop motor coordination and planning. Some activities will be more organized, while we also have time for less structured independent play/exploration.
Class Times:
Thursday 9-10am (this class costs $25 for 4 classes, registration is available at the front desk)
---
Tumbling & Trampoline
A class for kids who have some tumbling experience and wish to continue developing skills.
Class Times:
---
Pre-Team
This class is by invitation ONLY. This class requires all skills and practice in the same manner as our competition team. Participants practice vault, bars, beam, floor, strength and felxibility. This class focuses on skills needed for competition, but with less commitment.
Class TImes:
Tuesday and Thursday 6-8pm
---
Advanced Twisters
Tuesday or Thursday 6-8pm
---
CLICK HERE
for info about private lessons
---
End of Year Show!
The end of year show will be held May 6th 2023 this year.
CLICK HERE for registration with leotard
CLICK HERE for registration without leotard
CLICK HERE for registration with Tee Shirt
CLICK HERE for Gymnastics Tee Shirts