Aquatics
Brad Akins Branch Pool Hours
Indoor Pool
Monday - Friday 5:00am - 8:30pm
Saturday - 8:00am - 4:30pm
Sunday - 1:00pm - 4:30pm
Outdoor Pool
Opens Saturday, May 29th
Bell Family Pool Hours
Tuesday June 1st-Friday June 4th
9am-11am water aerobics and open swim in lanes
3pm-6pm open swim and swim team practice
Saturday June 5th 9:45am-1:45pm
AMERICAN RED CROSS LIFEGUARDING RECERTIFICATION COURSE
Lifeguard recertification course will be held Saturday, May 22, 2021. Participants must take an online course prior to class dates. Participants must show proof of current certification at registration. Please see registration form for more details.
Registration Form
Participation Waiver
SWIM LESSONS
Build confidence in the water with us.
Pre School Aged - children ages 3-5. This is for children learning to lay on their belly/back, kick, pull themselves out of the water, blow bubbles, etc.
Beginner School Aged - This is for children learning to kick on their belly/back, rotary breathing, and free/back arm movements.
Advanced School Aged - These children should be able to swim at least 15 yards on their belly/back, kick 25 yards, and rotary breathing.
Bell Family Branch
Brad Akins Branch
SWIM TEAM PREP Brad Akins
Spring 2020-
This program is for swimmers ages 4-13 that are proficient in freestyle and backstroke are ready to learn the remaining competitive strokes. The goal of this program is for swimmers to be ready to take the next step towards swim team. Practices are one hour with the coach instructing from the pool deck.
Parent Code of Conduct
Participant Waiver
Registration Form Spring 2020
External Privacy Notice
Important items for all swimmers:
Swimmers must have coach approved assessment before first time registration.
Goggles are required for all swimmers.
Cap is required for swimmers with hair past their ears.
One piece swim suits only.
We use Team Unify to schedule meets, maintain accounts, and communicate with parents. Please make sure you provide the email that you check most regularly. You will receive an email with instructions on how to set up your password for your account. If you have not received this email within the first week of practice please let your coach know.
YMCA BARRACUDAS SWIM TEAM
YMCA Barracudas Swim Team is now a Safe Sport recognized program! Becoming a Safe Sport certified program demonstrates a great commitment to safeguarding our athlets and participants. This means our program demonstrates our commitment to promoting a healthy and positive environment that's free from abuse for all members. Our coaches, parents, volunteers and athletes have completed many hours of development and training in order to earn this certification. Go Barracudas!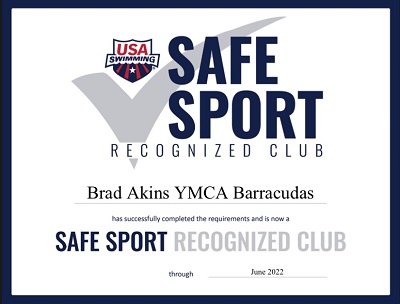 Join our year round swim team!
For more information please visit www.ymcabarracudas.com. Registration information is under the "Documents" tab at the top of the page.